With the remarkable features listed below, you may save a lot of time with invoice in Shopify.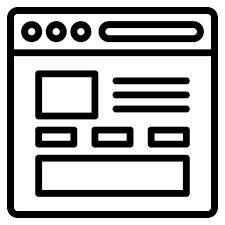 Fully Customizable Templates
Easily customize invoice template to hide/show the custom information.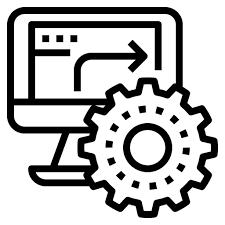 Email Automation
Invoices can be sent automatically to you, your customer, or 3rd parties when triggered by specific events.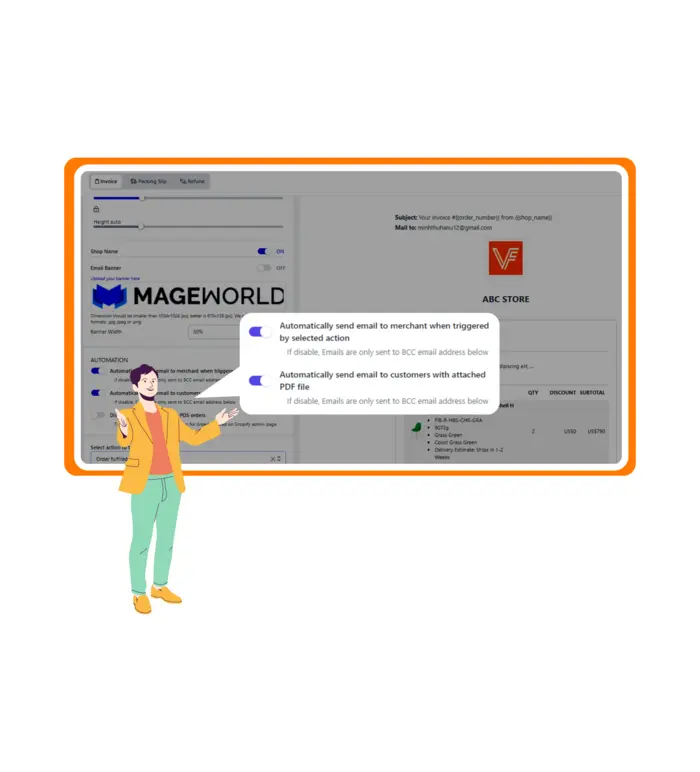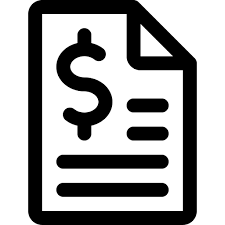 Invoice Generator
Generate invoice outside Shopify with the same template.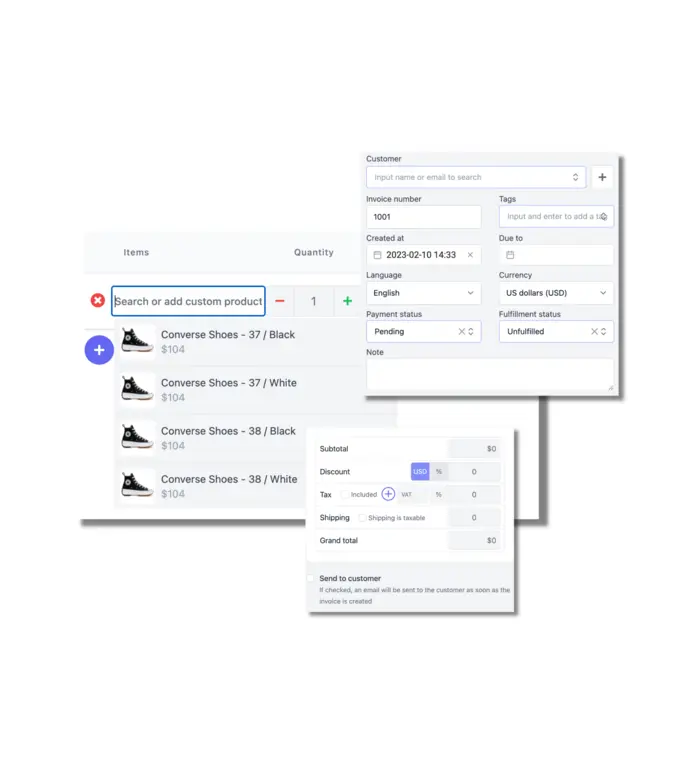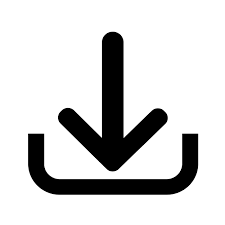 Front-end Download
Insert "Download" button with attached pdf invoice to certain pages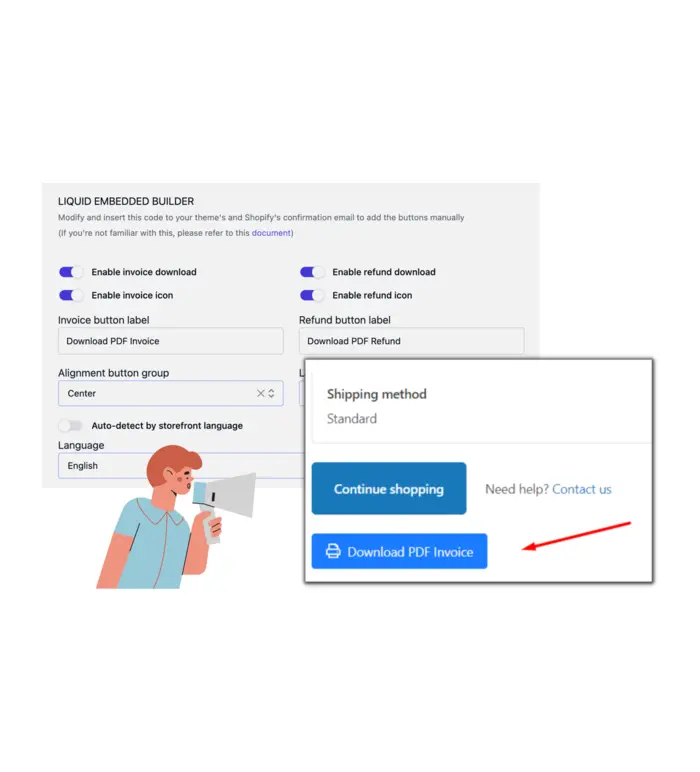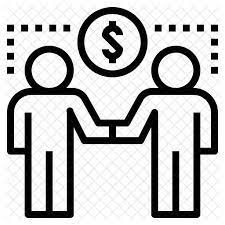 Commercial invoices
Seamlessly create and customize professional invoices tailored for international transactions, ensuring compliance and clarity for your global customers.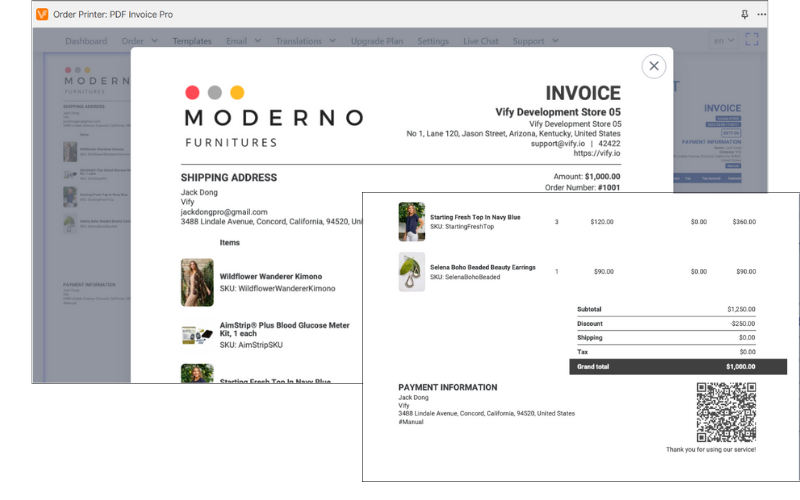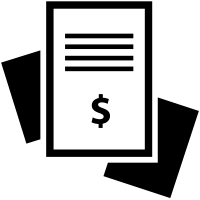 Creating professional quotations
Create professional estimates for products or services, including customization options for branding and detailed cost breakdowns.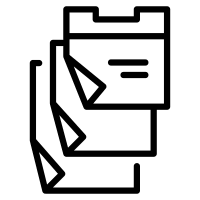 Download/print invoice in bulk
A time-saving tool that enables users to select multiple invoices and download or print them all at once.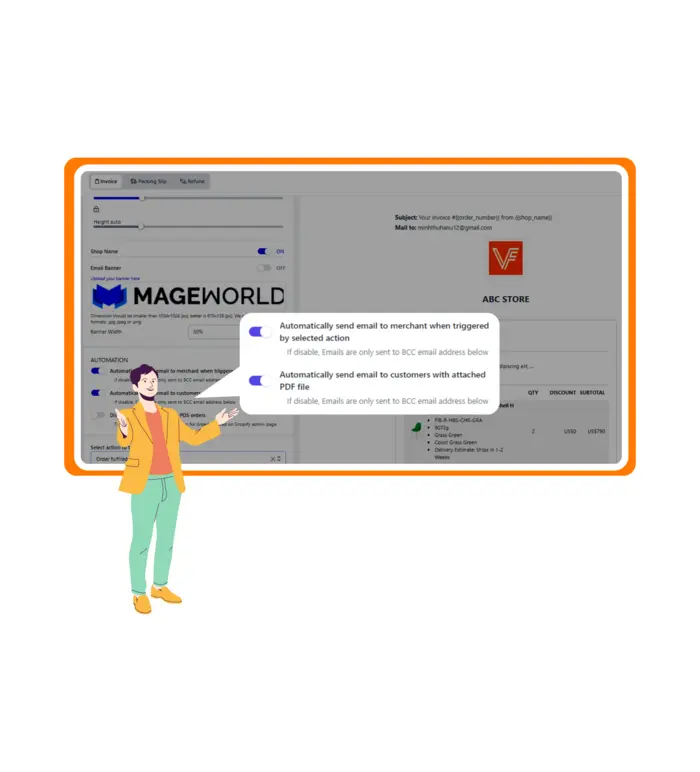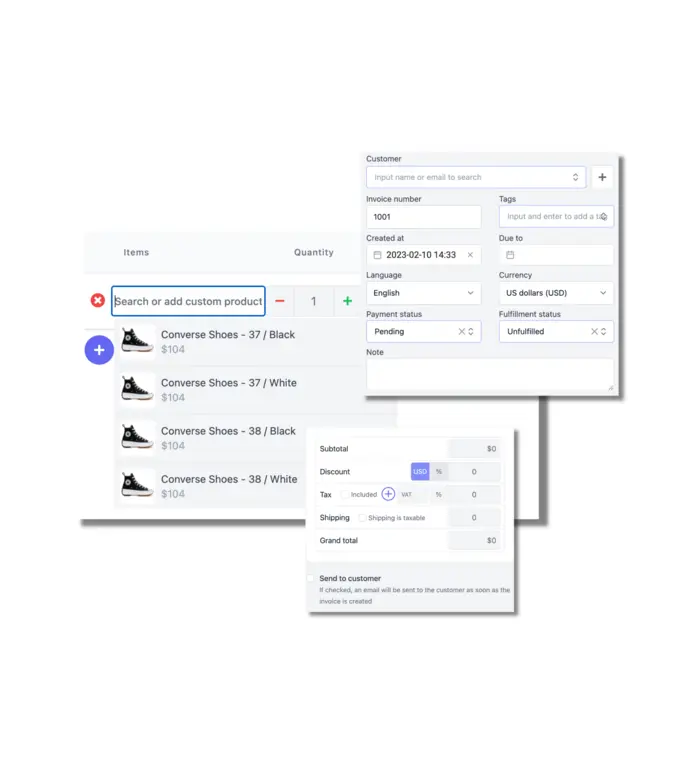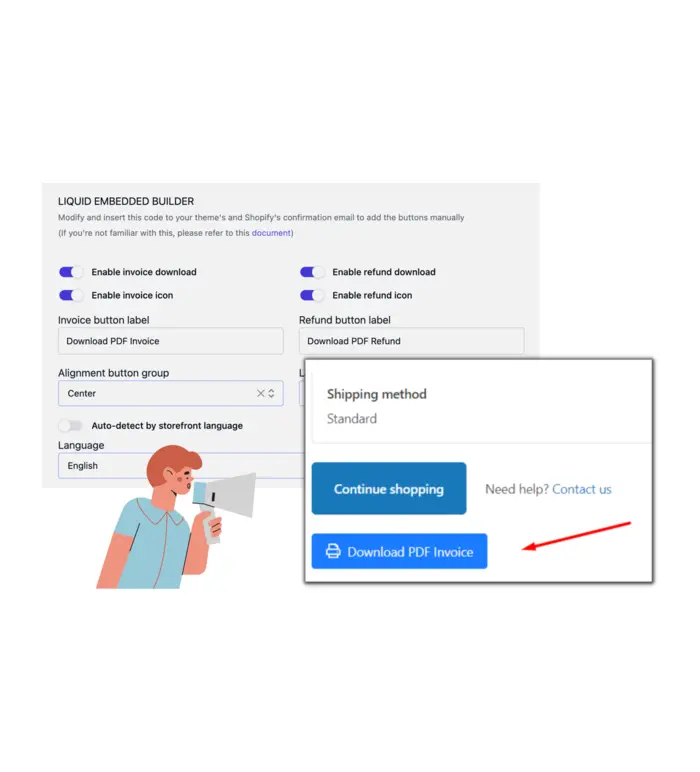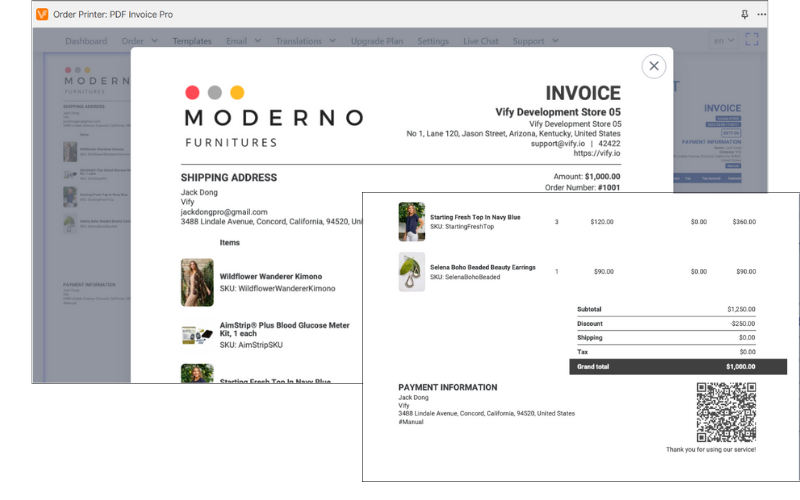 Most used template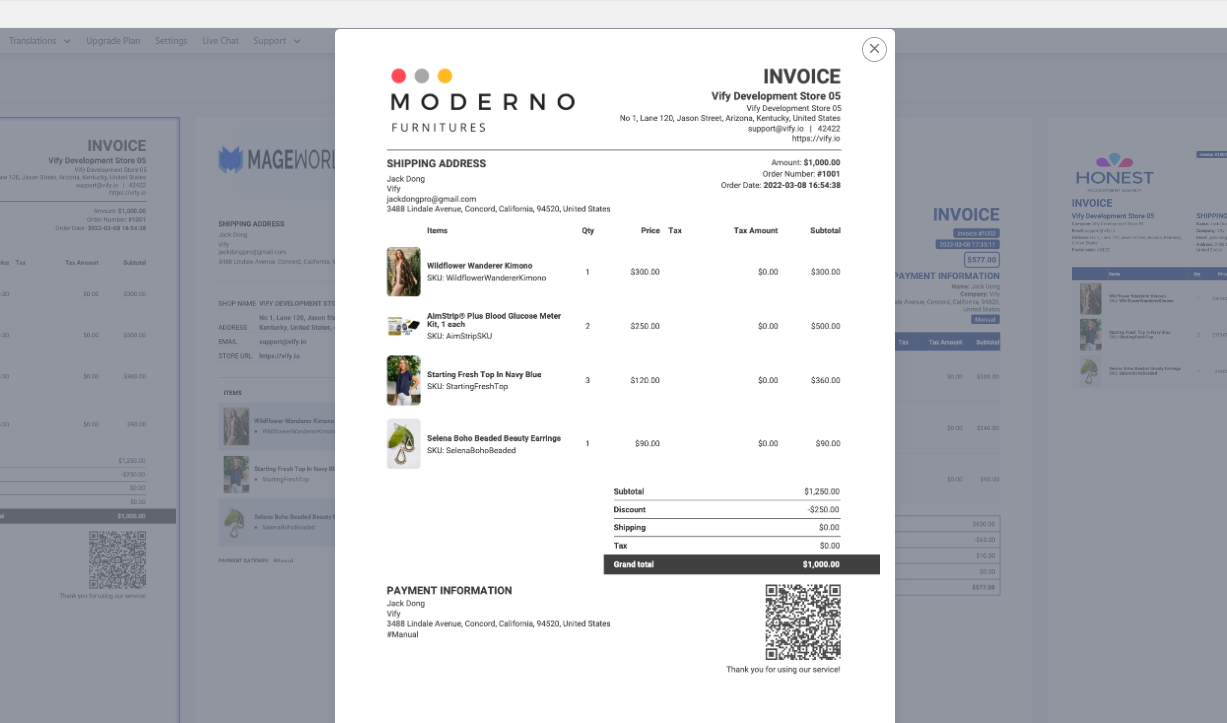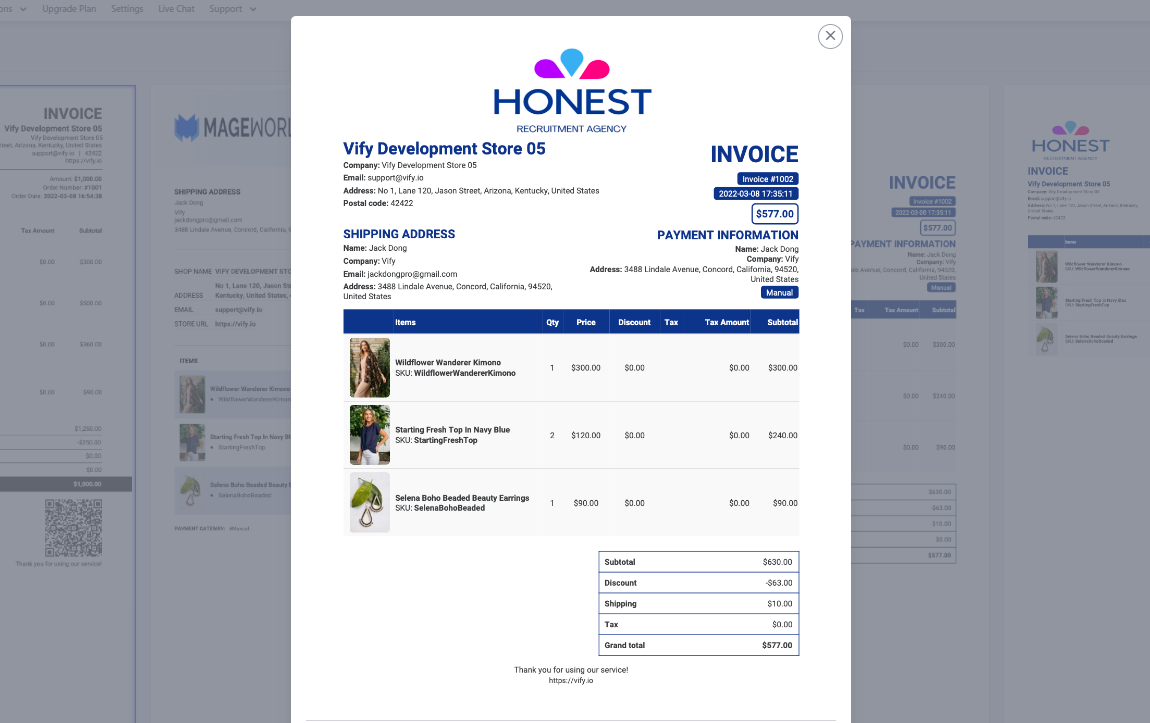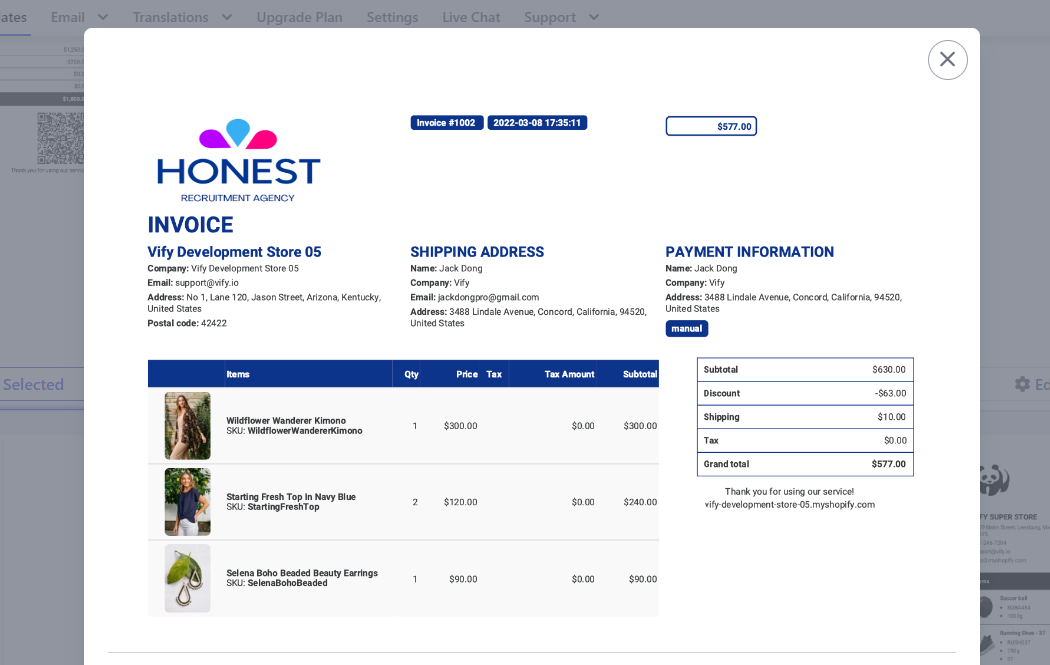 Order Printer: PDF Invoice Pro
Why VIFY's Order Printer: PDF Invoice Pro?
If you are looking for a Shopify app which generates Invoice, Packing Slip and Refund PDF files professionally, it's definitely our Order Printer: PDF Invoice Pro app.
Our Invoice app is super easy to set up, you do not need to know coding to customize everything, as we offer simple toggle options instead. Freely and unlimitedly print/ download invoice, packing slip, and refund pdf files to your needs. Invoices can be sent automatically to you, your customer, or 3rd parties when triggered by specific events. If you want independent invoices, we are also here to save the day. Furthermore, our team is online almost 24/7 to help if you ever need anything.
VIFY's Order Printer: PDF Invoice Pro has:
- The most complete tool for customizing your invoice, packing slip, and refund in pdf form.
- Best performance/ Best price in the market.
- Easy to use and customize (no coding skill required).
- Fast and dedicated support, always ready to help.
All benefits are there to grab:
1. Super easy to use, even for non-tech users:
We offer a simple yet effective interface for all users, where merchants can modify sessions effortlessly. Options are enabled/disabled with a simple toggle interface.
2. Show what you want on invoices
Merchants are offered different templates by default. There are 3 options (portrait, landscape, infinity) for each of the below:
Order invoice
Packing slip
Refund (credit note)
Draft order/quotation
Each template can be easily modified by adding/removing sections:
Logo: Merchants can upload their own logo to the templates or use one of the app's built-in logos.

Store information: The app allows merchants to add their store's name, address, phone number, and other contact information to the templates.

Order details: Merchants can choose which order details to include in the templates, such as order numbers, customer names, shipping addresses, and item details.

Custom messages: The app allows merchants to add custom messages to the templates, such as thank-you notes or special offers.

Currency and language: Merchants can choose which currency and language to use in the templates, depending on their region and target audience.

Styling: The app provides several styling options, such as font styles, colors, and layout options, that allow merchants to customize the templates' appearance to match their brand.
Additional templates and edit order invoice are available on paid plans.
3. Download and Print orders one-by-one, or in bulk
The app displays all Shopify orders, with all invoices for orders, shipments, and refunds. Merchants can either work with them individually or in bulk.
4. Email Automation
Invoices are configured to be sent automatically when triggered by specific actions/events. Merchants manage all of these within one dashboard, allowing them to customize the email content, attachments, BCC email addresses.
Email auto can also be filtered by tags.
Merchants can track if emails are sent/opened with Email History.
5. Front-end Download Button
With the code provided, merchants can create a "Download" button to allow customers to download invoices from several pages:
Shopify confirmation email
Customer account page
6. Multi-language and Multi-currency support
By default, invoices are in English, but merchants can choose different language to display them in. Moreover, users even can manually translate many terms on invoice into that specific language if needed.
Multi-currency is supported provided that your store are selling with multi-currency.
7. Shipping label alternative
With Tracking information available on packing slips, it can be an alternative for the traditional shipping labels.
8. Automatically capture customer's Tax number (VAT/GST/CIF/etc.)
Capturing a customer's VAT (Value Added Tax) is important for e-commerce sites that sell to customers in countries where VAT is applied. VAT is a consumption tax that is added to the price of goods and services in many countries around the world, including most countries in the European Union (EU).
When an e-commerce site sells to a customer in an EU country, it is required to collect and report the customer's VAT number in order to comply with EU tax laws. This is because EU VAT regulations require that businesses charge VAT on all sales made within the EU, and that businesses must be able to provide evidence that they have charged the correct amount of VAT.
Our app offers a solution to automatically capture and display them, to make this the tax invoice you need.
9. Draft order or quotation
Like actual orders, Draft orders can be viewed on the app, allowing merchants to download, print, and send them to customers via email (with a "PAY NOW" button).
10. Custom invoice number
Instead of the default invoice number from Shopify, merchants can set this number to start from a new one. Changes will be applied instantly to new future orders.
11. Commercial invoice/ VAT invoice
A commercial invoice is a document used in international trade transactions that provides important information about the shipment of goods from the exporter to the importer. The commercial invoice serves as a customs declaration, and is used by customs officials to assess the value of the goods being shipped and to determine any applicable taxes, tariffs, or duties.
Multiple additional fields are available for merchants to select and display on the invoice, ideally for B2B Shopify stores - wholesale invoice and international orders:
Country of Origin
HS Code
Price ex-VAT
Individual item tax
12. Quotation/ Pro Forma
Why an e-commerce site need quotation / pro forma?
With POS-interface, users can use our app's Quotation to create a quote with custom products then send to customers.
13. Online Storage
Our app allows you to sync your pdf order to Google Drive. PDF files can be automatically uploaded with specific triggers.
Ask for more information?
If you need any help then please feel free to contact us via Live Chat or Email (support@vify.io) for support.
Show full description
Show Less
Order Printer: PDF Invoice Pro app pricing

14-day free trial
FREE
Free
Freely customize template
Email Automation
Front-end Download option
Auto-detect address format
POS support
Edit store information
Filter orders by options
Manually send invoices
Download/print option on Shopify
SMS Invoice download link
Multi-email BCC option on email automation
Customize email automation content
Freely translate invoice/messages
Free and fast LiveChat support
Email support
Up to 50 orders
STARTER
$8.99/month
Everything in FREE plan 
Up to 50 orders
Unlimited orders
Branding removal
Print/download in bulk
Draft order invoice
Auto-detect language by billing address
Display customer note
Draft Order Front-end Download option
Bulk download option (separate or in 1 file)
Display invoice option (before order after order edit)
Tracking information on Packing Slip
Most popular
PREMIUM
$29.99/month
Everything in STARTER plan 
Price ex-Tax display
Additional professional template
Quotation/Pro forma invoice
Convert quotation to order
Send emails with store email address
HS Code and Country of Origin
Item metafields
Priority LiveChat support
ULTIMATE
$69.99/month
Everything in PREMIUM plan

1 Custom template of your design

Free customization

Priority LiveChat support

Priority LiveChat support
A free 14-day trial is applied when you select any paid plan. Try it out and decide later!
Frequently asked questions
Have questions? We're here to help
Can I customize the layout and design of my PDF invoices and other documents?
Yes, the app offers a range of pre-designed templates that you can customize to match your brand and style. You can also create your own custom templates using the app's template editor.
Can I automate the delivery of PDF invoices to my customers?
Yes, the app offers automatic email delivery, which allows you to send PDF invoices, packing slips, and other documents to your customers after each order is processed.
What kind of support is available for the app?
The app offers 24/7 customer support to assist merchants with any issues or questions they may have. The support team can be reached through the app's support page, which includes a contact form and a live chat feature.
How many orders can I print PDF invoices for each month?
This depends on the pricing plan you choose. The Free Plan allows you to print PDF invoices for up to 50 orders per month, while the other plans allow you to print PDF invoices for a higher number of orders.
Can I print multiple PDF documents at once?
Yes, the app allows you to print PDF documents in bulk, which can save you time and effort.
Does the app offer support for multiple languages?
Yes, the app supports multiple languages, which allows you to generate PDF invoices and other documents in different languages for your customers.