In today's digital age, gift cards have become a popular choice for both businesses and consumers. They offer convenience, flexibility, and a personalized touch to the gifting experience. However, with a plethora of options available, it can be challenging to decide which platform best suits your needs. That's why we're here to help.
In this comprehensive comparison, we will evaluate Vify Gift Card App and Shopify, analyzing their features, functionality, pricing, and overall user experience. Whether you're a business owner looking to enhance your gift card offerings or a consumer searching for the perfect gift, join us as we explore the strengths and weaknesses of these two platforms to determine which one emerges as the ultimate champion in the realm of e-commerce gift cards.
Vify Professional Gift Card App vs Shopify's: Feature comparision overview
| | | |
| --- | --- | --- |
| Feature | Vify Gift Card | Shopify Gift Card |
| Schedule delivery | YES | NO |
| Gift cards can be delivered directly to the purchaser | YES | YES |
| Gift cards can be delivered directly to the gift recipient | YES | NO |
| Disable gift card | YES | YES |
| Discounted gift cards | YES | YES |
| Customize redemption page | YES | NO |
| Customize gift card email | YES | NO |
| Purchasers can select gift card image | YES | NO |
| Balance look-up | YES | NO |
| Custom gift card product UI on store front-end | YES | NO |
| Auto translation based on customer locale | YES | NO |
| Purchasers can include a personalized greeting message | YES | NO |
Remarkable features of Vify Professional Gift Card that set it apart from Shopify's
Schedule gift card delivery date & time
Vify offers a feature that allows you to have complete control over the delivery of your gift cards by scheduling the date and time in advance. Say goodbye to last-minute rushes or missed opportunities – Vify's comprehensive scheduling feature ensures that your gift cards arrive promptly, leaving a lasting impression on those you wish to delight.
Gift cards can be delivered directly to the gift recipient

With the "Send as a gift card" feature available on the store front-end, Vify offers a seamless way to directly send your chosen gift to the intended recipient via email. This convenient option allows you to effortlessly share your thoughtful gesture with just a few clicks.
Additionally, you have the opportunity to add a personalized greeting message, adding a heartfelt touch to the gift. Whether you're sending a birthday surprise, expressing gratitude, or celebrating a special occasion, Vify's user-friendly interface ensures a smooth and memorable gift-giving experience for both the sender and the recipient.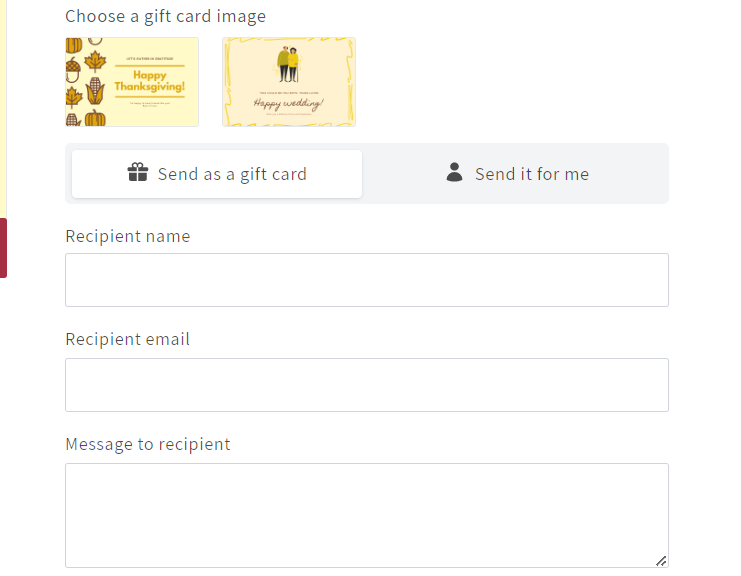 Customize gift card email
When it comes to customization, Vify truly shines by offering you the ability to personalize every aspect of the gift card email. With this powerful feature, you can create a unique and branded email experience for your recipients. From the subject line to the content and design, Vify allows you to tailor the email to reflect your brand's voice, style, and aesthetic.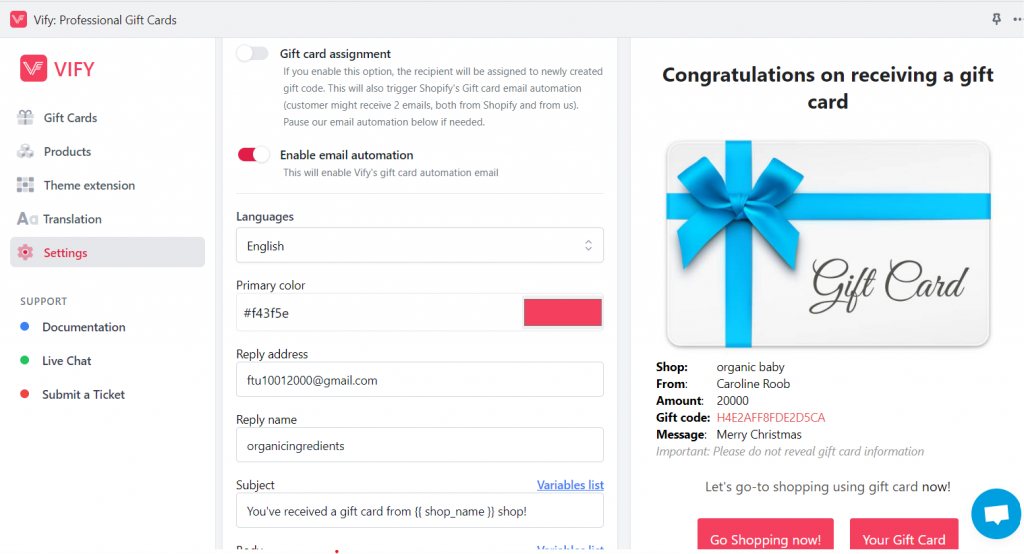 You have the flexibility to include your company logo, select eye-catching colors, and craft a compelling message that resonates with your recipients. Whether you want to express gratitude, celebrate a milestone, or simply add a personal touch, Vify's customizable gift card email feature enables you to make a memorable impression.
Purchasers can select gift card image on gift card product page
Vify takes gift card personalization to the next level by allowing purchasers to select a custom gift card image directly on the gift card product page. This exceptional feature grants buyers the freedom to choose from a variety of visually appealing and thematic images that resonate with the occasion or recipient.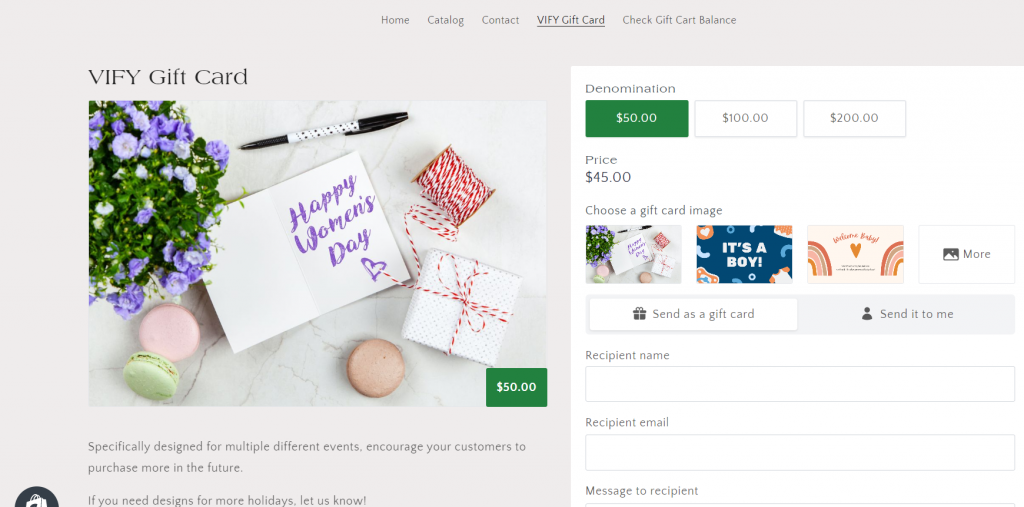 With the ability to select a gift card image, purchasers can add a personalized touch to their gift, ensuring it perfectly reflects the recipient's preferences or the sentiment they wish to convey. Whether it's a festive design for a holiday gift or a heartfelt image for a special occasion, Vify's intuitive interface makes it easy for purchasers to find the ideal image that captures the essence of their thoughtful gesture.
Gift card balance look-up page
This essential feature allows gift card recipients to easily check their remaining balance, ensuring they can make informed purchasing decisions.
With Vify's gift card balance look-up page, recipients can access a dedicated online portal where they can enter their unique gift card information. Within seconds, they will be provided with accurate and up-to-date details regarding their available balance. This eliminates any guesswork or uncertainty, empowering recipients to confidently use their gift cards and maximize their value.

Customize UI of gift card product page
This remarkable feature allows businesses to create a visually stunning and immersive shopping experience for their customers.
With Vify's customizable UI for the gift card product page, you have the freedom to design and tailor the page to align seamlessly with your brand identity and aesthetics. You can choose from a wide range of options to customize elements such as colors, fonts, layout, and images. This level of control ensures that every aspect of the page reflects your unique brand personality and resonates with your target audience.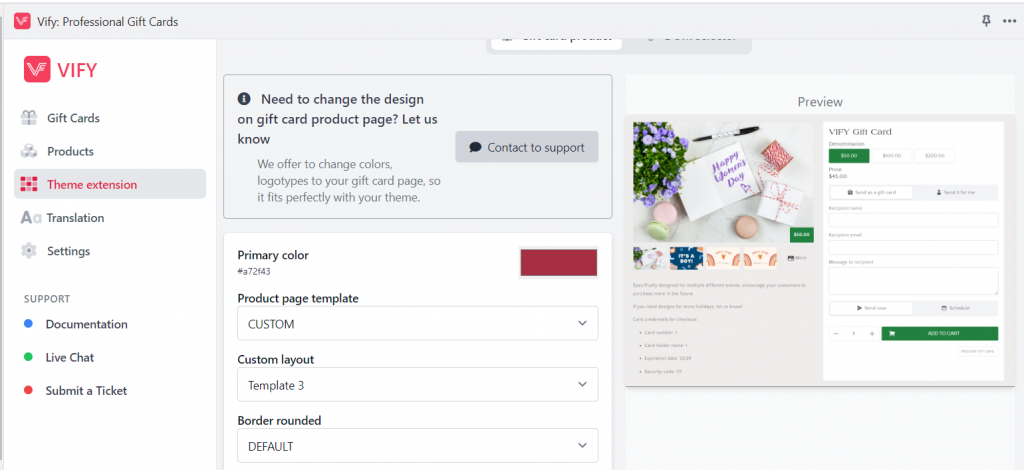 Whether you prefer a minimalist and sleek design or a vibrant and bold approach, Vify's customizable UI empowers you to create a gift card product page that captures the essence of your brand and engages your customers. By providing a visually appealing and cohesive shopping experience, you can enhance brand recognition, build trust, and increase conversions.
Auto translation base on customer locale
Vify offers a powerful feature that automatically translates the content of the gift card product page based on the customer's locale.
With Vify's auto-translation feature, the gift card product page dynamically detects the customer's location or language settings and adjusts the page's content accordingly. This means that customers will see the page's text, descriptions, and instructions in their preferred language, eliminating language barriers and enhancing comprehension.
By providing automatic translations, Vify enables businesses to reach a broader audience and cater to the specific needs of international or multilingual customers. This feature not only improves the overall user experience but also demonstrates a commitment to inclusivity and customer satisfaction.
Wrap up
In conclusion, when it comes to comparing Vify Gift Card App and Shopify, both platforms offer impressive features and functionalities for businesses and individuals looking to enhance their gift card offerings.
Ultimately, the choice between Vify and Shopify depends on the specific needs and priorities of the business. Vify's focus on gift card-specific features and customization may be ideal for those seeking a specialized gift card solution, while Shopify's built-in gift card is suitable for a wide range of online stores, including retail businesses and e-commerce stores, looking to enhance customer engagement and generate additional revenue through gift card sales.