In recent years, there has been a growing interest in Progressive Web Apps (PWAs) as an alternative to native apps and traditional web apps. PWAs are web applications that provide a user experience similar to native apps while utilizing the capabilities of modern web browsers. Thanks to the technology's application, it offers a mobile experience like an application. This is a type of a type of web application that offer a range of benefits over traditional web apps and native mobile apps.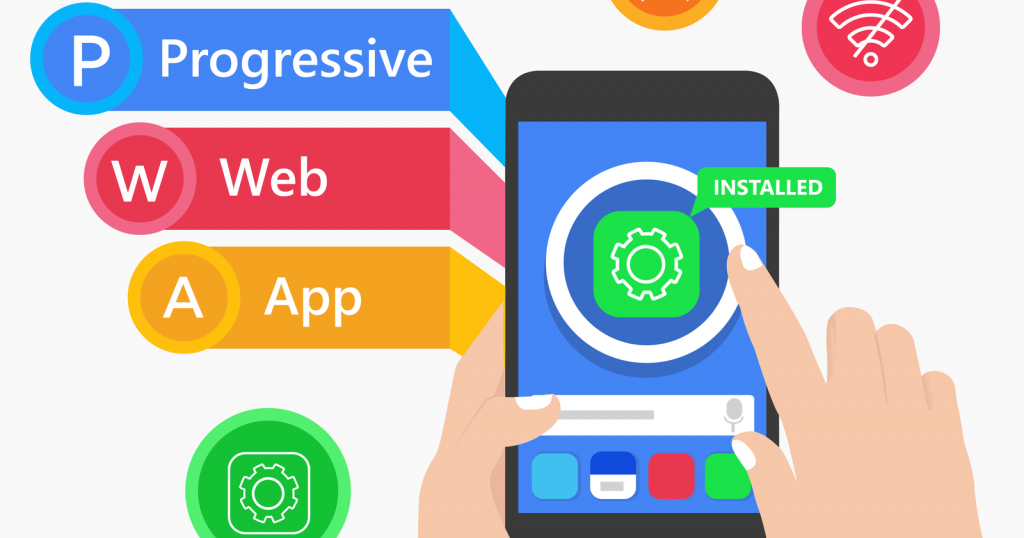 What is a PWAs (Progressive Web Apps ) ?
Therefore, the PWA is halfway between a website and an app, using web technology to provide the app's functionalities. It is an app that works with the technology of a webpage, taking the advantages of one and the other. For example, you can use offline or generate notifications as an app while maintaining the website characteristics, such as search engine indexing.
In this article, we will explore the advantages of using PWAs, including faster loading speeds, offline accessibility, improved user experience, cost-effectiveness, and increased discoverability. By the end of this article, you will have a clear understanding of why PWAs are becoming increasingly popular among businesses and developers alike.
Advantages of Progressive Web Apps (PWAs)
Google reward this development
Google directs more and more efforts in the mobile and positions better these webs, not only for the architecture of the web that is responsive but also because it gives better positioning to those websites with less load time in the mobile. Beware, not all browsers allow to see PWA, but the main ones like Chrome or Firefox, as well as that has already been integrated by Microsoft.
PWAs can be used as an App
PWA is a website allowing offline browsing as an app and delivers notifications on the mobile, among other advantages. As an inconvenience, notifications do not work for now in iOS.
Faster loading speed
One of the primary advantages of PWAs is faster loading time. PWAs are designed to use service workers, a type of web technology that allows the app to work offline and cache data. This means that even if the user's internet connection is slow or lost, the app can continue to function without interruption. Furthermore, PWAs load much faster than traditional web apps, which can significantly improve the user experience.
The main PWA advantage is its weight since they are pages that can weigh less than 1 MB, offering incredible speed to users and a significant advantage in this mobile world and smartphones in which we are.
Work on Offline Mode
As mentioned earlier, PWAs can work offline using service workers. This means that users can continue to use the app even when they are not connected to the internet. This can be particularly useful for users in areas with limited connectivity or for users who travel frequently.
Easier installation
Unlike traditional web apps, PWAs can be installed by users, making them more accessible and convenient. When a user visits a PWA, they will be prompted to add the app to their home screen. This means that the app can be easily accessed and launched, even without an internet connection.
Cost-Effective
Developing a native app for multiple platforms can be expensive and time-consuming. In contrast, PWAs can be developed using web technologies such as HTML, CSS, and JavaScript, which are widely used and have a large developer community. This means that businesses can save money by creating a single PWA that works on multiple platforms, rather than developing multiple versions of a native app.
No App Store Approval Process
When developing a native app, developers must go through an app store approval process before their app can be published. This process can be time-consuming and may result in the app being rejected. In contrast, PWAs can be published without going through an approval process. This can save time and reduce the risk of rejection.
Push Notifications
PWAs can also utilize push notifications to engage users and provide timely updates. Push notifications are similar to those used by native apps, but they can be implemented in PWAs using web technologies. This can be a powerful tool for businesses to increase user engagement and retention.
Increased discoverability by search engine
Another advantage of PWAs is that they are easily discoverable by search engines. PWAs are essentially web apps, which means that they can be easily indexed by search engines like Google. This can make it easier for users to find the app and increase its visibility. Additionally, PWAs can be added to the user's home screen, making them more accessible and convenient.
Improved user experience & conversions
PWAs offer a seamless user experience across different devices and screen sizes. Unlike native apps, which require a different version for each platform, PWAs can adapt to different devices and screen sizes. This makes it easier for developers to create a single version of the app that works on multiple devices. Additionally, PWAs can run in full-screen mode, making them feel more like native apps and providing a better user experience.
Advantages of Progessive Web Apps (PWAs) – Conclusion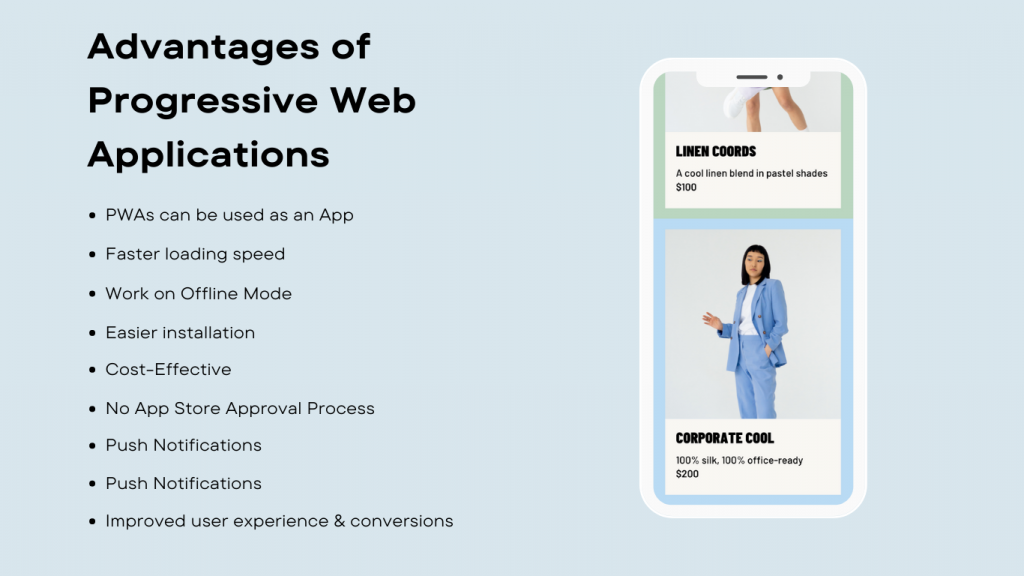 All the above elements give the user a better usability experience translating into more and better conversions and more excellent SEO positioning. For example, AliExpress improved conversions for new users in all browsers by 104% and in iOS by 82%. Another example is Extra Electronics; the push notifications from the PWA helped users spend twice as much time on the site. Or Alibaba, which increased conversions by 76%. Therefore, the companies that are best suited to have a PWA are the e-commerce, since the loading times and the app type navigation increase in the duration session's and a decrease in the bounce rate, improving conversions. Service companies may also be interested in using PWA for push notifications allowing users to transfer notices or interact with the user.
To measure the PWA speed, we can do it in a simple way: with Lighthouse, a Chrome extension developed by Google, which provides a specific report on the PWA's operation.
In summary, Progressive Web Apps (PWAs) offer several advantages over traditional web apps and native apps. PWAs are cost-effective, easily discoverable by search engines, and can work offline. Additionally, PWAs provide a seamless user experience across different devices and screen sizes. With the use of service workers and push notifications, PWAs can engage users and provide timely updates. Furthermore, PWAs can be easily installed by users and do not require an app store approval process. As more businesses and developers adopt PWAs.