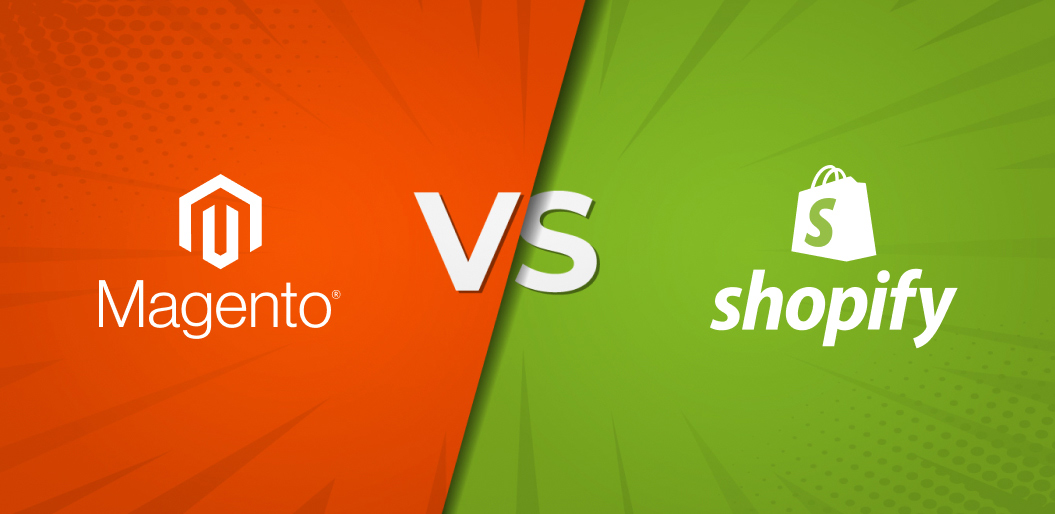 2 of the most popular e-commerce platforms always stay rivals when it comes to the best option for startup entrepreneurs, or simply when someone wants to migrate their store.
Let us today compare these 2, and see which suits your business the most.
Overview:
– Shopify is a commercial product (that you need to pay for) while Magento Open Source is a free, open-source software.
– Shopify is a hosted solution (where your store is hosted by them) while Magento requires that you provide your own hosting, install, setup, and configure everything before you can actually start creating your store – something requiring a medium to high level of web development and programming skills.
– Shopify is more for beginners, with a simple user interface, while Magento is packed with features but more suitable for advanced developers.
– Magento does have a paid version, but it gets extremely expensive and is only meant for large enterprises that can spend 10s of thousands of dollars on a website per month. We won't be reviewing the paid version, since most startups and small businesses don't have the money. Most small businesses should think about the open-source version of Magento if you have an experienced developer on the team–or if you have development skills yourself. Otherwise, you're far better off going with Shopify for your entire online store.
With these differences in mind, here's our head-to-head comparison of Magento vs Shopify.
- Magento vs Shopify: Pros and Cons
| Shopify Pros | Shopify Cons |
| --- | --- |
| – Multichannel selling – sell on Facebook, Instagram, Amazon, and eBay | – Transaction fees – only platform to enforce its own fees, unless you use Shopify Payments |
| – 70+ mobile responsive themes – 10 free options, plus 64 premium options starting from $14 | – Cost of apps – it's easy to get carried away installing lots of paid apps |
| – App store – extensive range of apps to extend the functionality of your site | – Most themes have a price attached to them |
| – A comprehensive eCommerce builder | |
| – Easy to use | |
| – Lots of checkout and payment options | |
| – Large community of dedicated fans | |
Magento Pros

magento Cons

– Large user community – the Magento Forum has a comprehensive answer for just about anything

– Unsuitable for beginners – you'll need to know how to code, and the software uses web developer jargon that isn't very beginner-friendly

– Very flexible platform – there are no limitations to how you can design your store, as long as you know how to code

– Not easy to install – unlike other open-source software, it's harder to find a hosting provider that will support Magento (SiteGround is one that will)

– Ideal for medium to large businesses – an advanced platform suitable for businesses with their own web development teams, or that have money to spend on hiring a developer

– Has a bit of a learning curve

– Good range of themes to choose from

– Lots of costs associated with setting up your store

– Magento is open-source and free to use
- Ease of use
When it comes to the time and effort it takes to set up your new store, Shopify exceeds Magento in every way.
Shopify is far easier to use than Magento. It's a fact. Shopify is a one-stop-shop, drag-and-drop website builder, which means you can easily customize your store by moving elements around the page exactly how you want.
With Magento, the learning curve is pretty steep compared to Shopify. You'll have to interpret the jargon and use code in order to build the online store you want, or hire a web developer to build the store for you.
Shopify is easier to use than Magento. Magento is more flexible than Shopify, in that it enables you to customize your store however you like with code, but it's much trickier to use overall – which will make it hard for most users to build a store to be proud of.
Also, since Magento is not a hosted solution, procuring your own hosting and setting up your store with it are processes that typical end-users would not find easy or convenient to do on their own.
When I look at Magento vs Shopify and consider ease of use, it's a no-brainer. Shopify wins.
- Feature Comparison
Basic Online Store Functionality – Both Shopify and Magento offer basic store functionalities that are fairly powerful to use and maintain on an ongoing basis. Shopify is significantly easier to set up and use when compared to Magento. You'll find that basic features like shopping carts, checkout modules, collections, and product pages are all included with both Magento and Shopify. The main difference is that Magento has far more intermediate and advanced features built into the system. With Shopify, you often have to get an app for extended functionality.
Inventory Management – All Shopify plans allow for unlimited products in your store. Magento also lets you create and sell an unlimited number of products. You can easily create products and collections on both of the platforms, but the reason Shopify gets the thumbs up on this one is because of its direct integration to dropshipping inventory apps like Oberlo.
It should be noted here though, that while Magento allows a virtually unlimited number of products, your host (server) performance and site loading speed might turn out to be serious issues if you add too many products to your Magento store – something you don't have to worry about with Shopify, since it is a fully managed and hosted solution.
Calculation of shipping charges – Both platforms allow flexible and powerful options for the calculation of shipping charges–which is one of the most basic and essential aspects of selling physical goods via an e-commerce storefront. Shopify also integrates with some dropshipping tools (with shipping estimates) and more exact shipping calculators, which might be helpful if you're trying to be as accurate as possible for your customers.
Payment gateway options – Shopify has a major edge here, with support for over 70 payment gateways while Magento is relatively at a disadvantage with support for a far lower number of gateways. More gateways, however, can be added to Magento store via third-party add-ons. The main problem I see with Shopify is that it kind of forces you to go with its built-in payment gateway. Shopify's gateway has 0% transaction fees, while they make you pay fees for third-party gateways.
Themes and Templates – Both Shopify and Magento offer a large collection of themes and templates to give your online store a look and feel to suit your products and taste. While the number of free themes provided by Shopify is significantly smaller than that of Magento Open Source, it can be noted that the free Shopify themes are generally more contemporary as compared to the themes offered by Magento Open Source.
Both offer paid/premium themes but here, Shopify is at a great disadvantage, with premium themes starting at $80, while Magento paid themes start at – an almost unbelievable – $1!
In keeping with today's must-have requirement of responsive website design (a design that works well across a range of commonly used devices with which people get online), both Shopify and Magento Open Source offer a good number of responsive templates, free as well as paid.
Apps and Add-ons – Well over 100 apps and add-ons are available for Shopify. The apps for Shopify assist in enhancing and expanding the functionality of your online store in various ways. The Shopify App store is constantly growing, with apps for things like loyalty programs, accounting, and email marketing. Shopify also moderates its app store pretty well, so you're not going to install some junk app that's going to damage your site.
Magento, again, is at a strong advantage here, with a whopping 5000+ apps and add-ons. This is primarily because of the large, open-source, community-driven nature of the platform. A mix of free, as well as paid apps/add-ons, are available for both platforms.
In general, you should be able to find free apps for pretty much all tasks on both platforms. I often stumble upon premium apps on Shopify, but then complete a quick search to locate something similar and free.
Multi-lingual capabilities – Shopify does not offer full multi-lingual capabilities directly. For creating fully multi-lingual stores, third-party/paid apps are available for Shopify. Another option available at Shopify is to custom code your theme so that it has multilingual capabilities. However, you would most likely have to find an expert Shopify developer to complete the task. Magento is again at an advantage here, with more built-in multi-lingual support.
Customization capabilities – Both platforms offer robust customization capabilities, via an advanced interface that allows you to edit the raw HTML/CSS code directly to give you total control over the design and the look-and-feel of your store.
However, as mentioned above, Shopify scores better here by providing a simple, menu-driven method to change the basic attributes of your store such as fonts, colors etc. very easily while the customization capabilities with Magento are as high as it can get because all its code is open source, any of which you can modify in any way you wish to. Albeit, this unrestricted freedom to customize can be used only by those who have deeply entrenched web programming and HTML/CSS coding know-how.
Also, Shopify offers a theme editor that allows you to play around with the look and feel of your theme, and it has the ability to hide sections, so that you can work on future updates beforehand without having to duplicate the theme, or work on a staging server.
Finally, Shopify provides drag and drop sections, which are nice for organizing the content on your website. It's nothing like an actual drag and drop builder, but it makes for a much easier design interface when compared to Magento.
Blogging functionality – Easy blogging functionality is available as an integrated feature at Shopify. This can be achieved with Magento. As long as you have a developer, your Magento blog should be far more customizable than what they provide at Shopify.
- Help and Support
The more easily you can fix issues with your online store, the sooner you can get back to making sales and gaining new customers. That's why the help and support options for your chosen platform must tick certain boxes. Thankfully, Shopify and Magento certainly do tick plenty:
24/7 phone support

Social media support

24/7 live chat support

Community forum

Email support

Help center

Video tutorials

Advanced specialist support
Magento vs Shopify: Which One is Best for Your Online Store?
While both Shopify and Magento are fairly powerful e-commerce platforms, Shopify provides greater ease of use since it is a hosted and fully managed service.
Magento, while free itself, requires you to purchase hosting and carry out all the software/system setup and installation procedures yourself – something that only fairly tech-savvy people (and not typical end-users) would be able to do.
In light of this, as well as some of the points discussed above, Shopify comes out a winner as an e-commerce platform for building your online store with maximum ease of use and powerful capabilities.
Still, the choice is always yours to make.